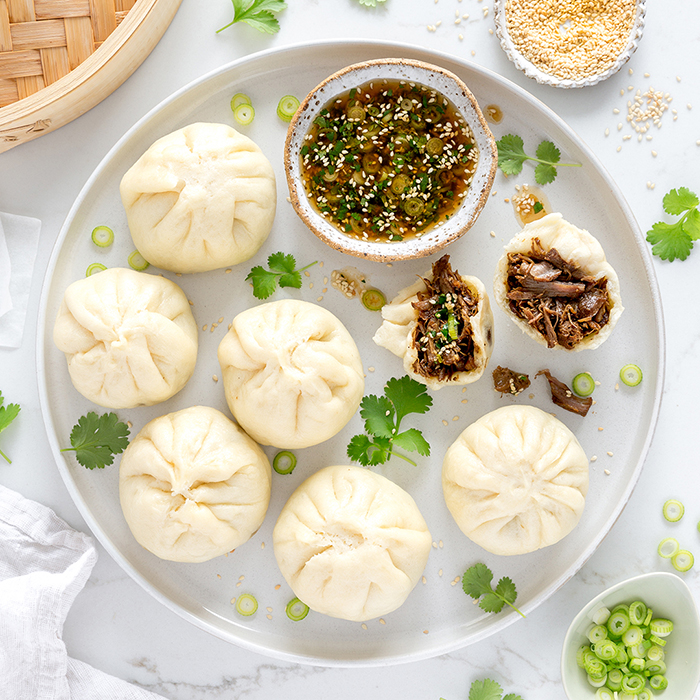 Xinjiang Lamb Steamed Buns with Sesame Coriander Sauce
PREP TIME

40 mins

COOK TIME

2 hrs 30 mins
Method
Preheat oven to 140°C Fan or 160°C Conventional.
Place cumin, Szechuan peppercorns and chilli flakes in a small dry frypan over medium heat for 1-2 minutes until toasted. Transfer to a mortar and pestle. Add salt and grind to a powder. Toss lamb with spices to coat.
Heat oil in a large non-stick casserole over medium heat. Working in batches, add the lamb and cook for 5 minutes, turning occasionally, until caramelised. Transfer to a plate and repeat with remaining lamb. Return all the lamb to the pan. Whisk together the garlic, corn flour, Shaoxing wine, soy and water in a bowl, then add to lamb. Cover with a layer of baking paper, foil, then the lid. Transfer to oven for 2 hours until very tender. Shred the meat apart then allow to cool completely.
Meanwhile, for the dough, in the bowl of a stand mixer fitted with a dough hook, whisk together milk, sugar and yeast. Set aside at room temperature for 10 minutes or until foamy. Add the oil, flour, baking powder and salt. Knead the dough together for 5 minutes, or until smooth and elastic. Cover with a damp cloth and transfer to proving drawer or a warm place for 1 hour until doubled in size.
Divide the dough into 12 even balls on a lightly floured bench. Roll each ball into a rough 10cm circle. Place a heaped spoonful of the lamb mixture into centre of the dough and bring the sides together at the top and pinch to seal. Transfer bun onto a square of baking paper and repeat with remaining mixture.
Place buns onto the perforated tray in your Nexus Steam oven, or in a bamboo steamer. Steam for 10 minutes at 100°C until buns are puffed and cooked.
Combine all ingredients for the sesame coriander dipping sauce. Serve with steamed buns.
Recipe, Food Styling and Photography by Karen McFarlane, foodlove.com.au
Ingredients
2 tsp cumin seeds
1 tbs Szechuan peppercorns
1 tsp dried chilli flakes
1 tsp sea salt
1kg boneless lamb shoulder, trimmed of fat, cut into chunks
2 tbs peanut oil
3 cloves garlic, finely chopped
1 tsp corn flour
2 tbs Shaoxing wine
¼ cup light soy sauce
½ cup water
Dough
¾ cup lukewarm milk
1 tbs caster sugar
1 tsp dried yeast
2 tbs canola oil
300g plain flour
2 tsp baking powder
¼ tsp salt
12 x 7cm squares of baking paper
Sesame Coriander Sauce
3 tbs sesame oil
1 tbs light soy sauce
2 tbs rice wine vinegar
1 tsp finely grated fresh ginger
1 spring onion, thinly sliced
3 sprigs fresh coriander, finely chopped
1 tsp toasted sesame seeds