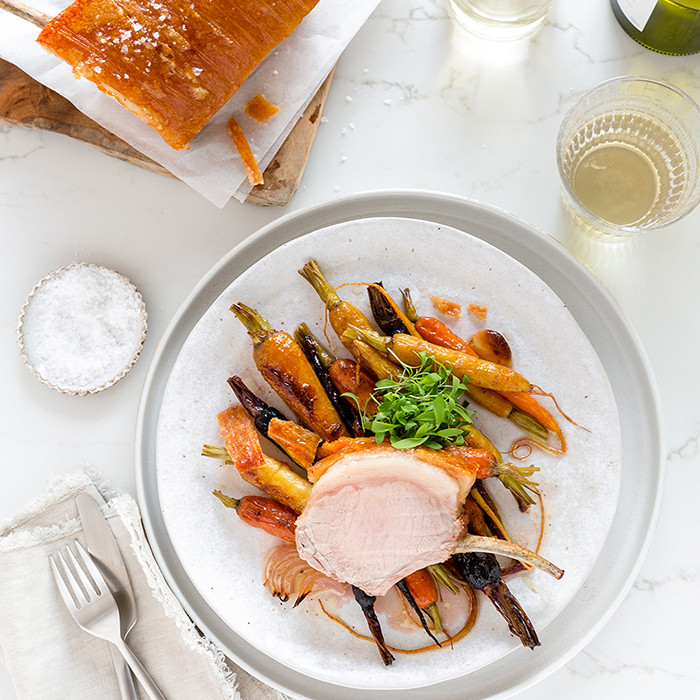 Roast Pork Rack with Heirloom Carrots
PREP TIME

25 mins

COOK TIME

1 hr 25 mins
Method
Score the pork skin with a sharp knife and place on a tray. Rub the salt all over the skin and meat and refrigerate uncovered overnight to dry out the skin and season the meat.  Preheat oven to 200°C Fan Assist.
Place the orange juice, stock, garlic, onion, carrots in a 20 x 30cm baking dish. Season with salt and pepper and dot the butter over the top. Sit the pork on top of the carrots. Transfer to oven and roast on the centre shelf for 45 minutes until the pork skin is golden and crisp.
Reduce the heat to 180°C Fan or 200°C Conventional.
Cook for a further 30 minutes, or until the internal temperature of the pork reaches 50°C on a meat thermometer. Remove the pork and allow to rest. Drizzle the honey over the carrots and return to the oven for a further 10 minutes until caramelised.
Transfer carrots to serving platter and top with micro coriander. Serve with sliced pork.
Recipe, Food Styling and Photography by Karen McFarlane, foodlove.com.au
Ingredients
1.6kg pork rack
2 tbs sea salt
1 orange juiced
2 cups chicken stock
2 cloves garlic, crushed
1 onion, peeled & cut into 8 wedges
2 bunches heirloom carrots, washed & trimmed
60g unsalted butter, diced
2 tbs honey
50g unsalted butter, diced
micro coriander, to serve
sea salt & cracked black pepper