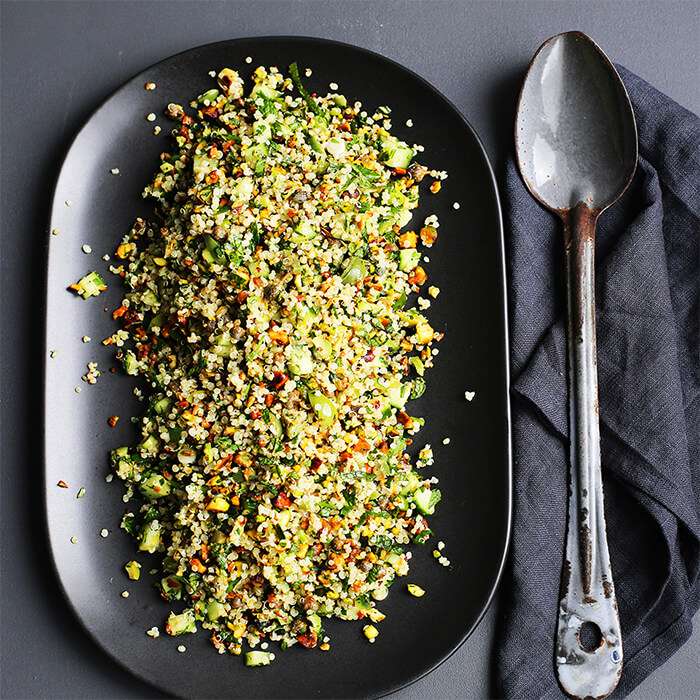 Quinoa and Pistachio Tabouleh
PREP TIME

20 minutes

COOK TIME

25 minutes
SERVES

6-8 servings

SKILL LEVEL

Easy
Method
In a medium saucepan cook the quinoa in salted boiling water for 10-12 minutes or until cooked; if you have an induction cooktop, set to L2 (90°C).
Once cooked, drain the quinoa in a fine sieve and push to squeeze out all excess water.
For the dressing, mix together the garlic, lemon juice and the oil, season with salt and pepper.
Transfer the quinoa to a large bowl; add the dressing along with all the remaining salad ingredients, mix well, season with sea salt and freshly ground black pepper.
Recipe, Food Styling and Photography by Karen McFarlane, foodlove.com.au
Ingredients
1 cup white organic quinoa
1 continental cucumber, deseeded and diced
½ bunch flat-leaf parsley, finely chopped
½ bunch mint, finely chopped
1 cup (100 grams) Sicilian green olives, pitted and roughly chopped
½ cup (65 grams) baby capers in brine, drained
4 spring onions, thinly sliced
150 gm (1 cup) pistachios, toasted, roughly chopped
Sea salt and freshly ground black pepper
Dressing
1 clove garlic, minced
Juice of 1 lemon
¼ cup extra-virgin olive oil
Sea salt and freshly ground black pepper