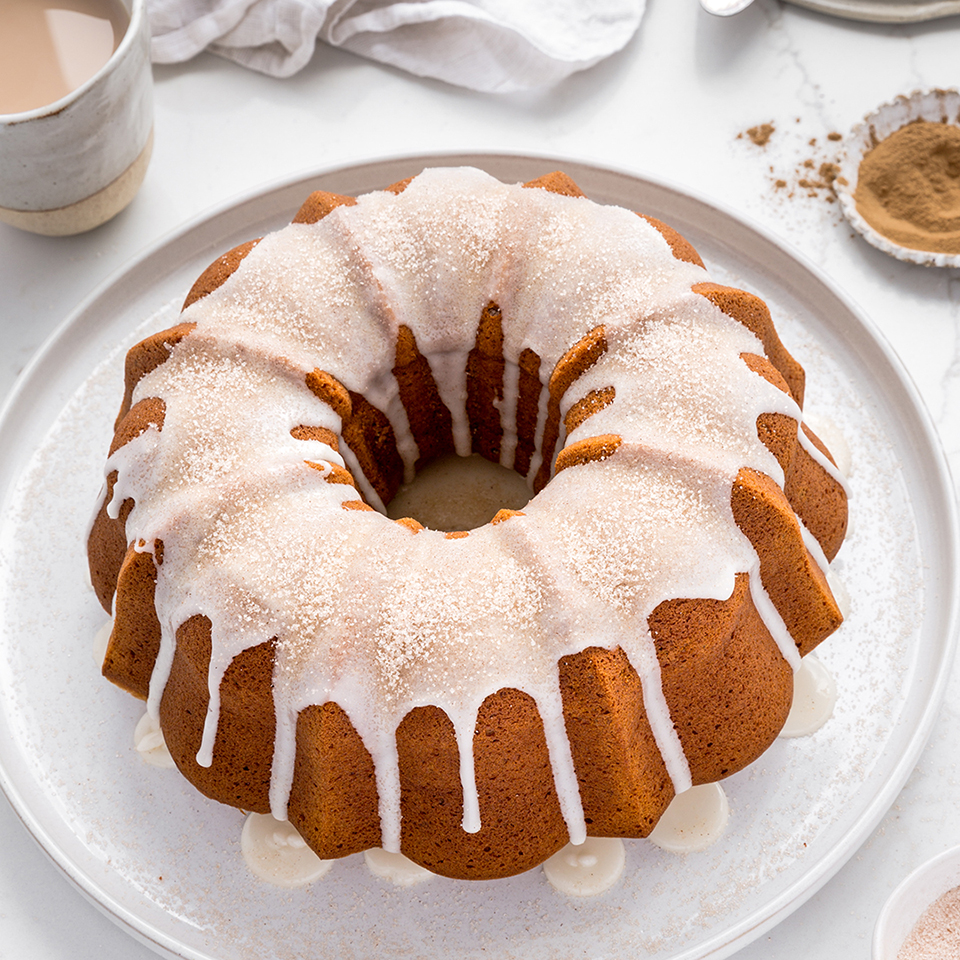 Pumpkin & Cinnamon Sugar Bundt Cake
PREP TIME

20 mins

COOK TIME

65 mins
Method
Preheat oven to 150°C Fan and grease a 27cm bundt tin with butter.
Place pumpkin in a steamer over a saucepan of boiling water and simmer, covered, for 15 minutes until tender. Remove from heat and allow to cool completely, then transfer to a bowl and mash until smooth. Cool completely. (This step can be done up to 3 days before).
Place the butter and sugar in the bowl of a stand mixer and beat for 10 minutes on medium speed, scraping down the sides occasionally, until light and fluffy. Add the eggs, one at a time, until fully combined and beat for another 5 minutes. Add the vanilla and pumpkin puree and beat until combined. Whisk the flour, cinnamon, baking powder, baking soda and salt in a large bowl then add to batter. Beat until the mixture is just combined and smooth.
Pour batter into prepared bundt tin. Bake for 45-50 minutes or until cooked through. Allow cake to cool in the tin for 15 minutes before turning out onto a wire rack to cool completely for about 2 hours.
For the topping, combine the sugar and ground cinnamon in a small bowl. Make the glaze by combining the icing sugar, milk and vanilla until smooth. Drizzle the glaze over the top of the cake then sprinkle with the cinnamon sugar.
Recipe, Food Styling and Photography by Karen McFarlane, foodlove.com.au
Ingredients
900g peeled pumpkin, diced (3 cups puree)
250g unsalted butter, softened
400g brown sugar
4 eggs, at room temperature
1 tbs vanilla extract
3 cups (435g) plain flour
1 ½ tsp ground cinnamon
2 tsp baking powder
1 tsp baking soda
½ tsp salt
Topping
2 tbs sugar
½ tsp ground cinnamon
¾ cup (115g) icing sugar, sifted
1 tbs milk
½ tsp vanilla extract