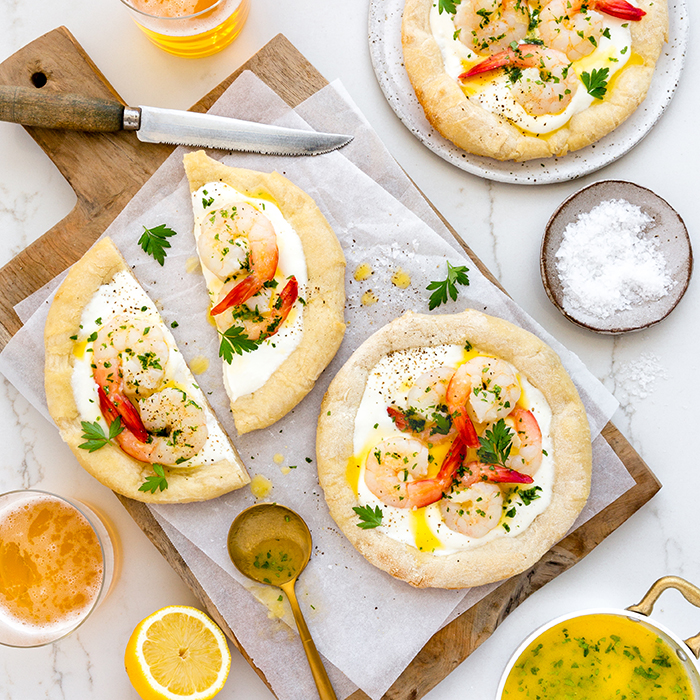 Prawn & Garlic Butter Pizzette
PREP TIME

40 mins

COOK TIME

15 mins
Method
For the pizza dough, place the flour, yeast, honey, beer and salt to a mixing bowl of a stand mixer fitted with a dough hook and knead until the dough comes away from the sides and is smooth but still quite wet. Transfer to a bowl, cover with a damp cloth and allow to prove in a proving drawer or warm place for 1 hour until doubled in size. Knock the air out of the dough and cut into 6 equal portions. Roll into balls, place on a tray. Cover with the cloth again to prove for a further 30 minutes until doubled in size again.
Place the feta and yoghurt in a food processor and blend until smooth.
Preheat oven to 220°C Fan Assist
On a lightly floured bench, use your fingers to press out each ball of dough into a rough 15cm circle about 1cm thick. Heat enough olive oil to just coat the base of a large non-stick fry pan over medium heat. Working in batches, add the dough and fry for about 2-3 minutes until golden and crisp on the base. Transfer to a tray and repeat with remaining dough.
Spread the pizza bases with a heaped spoonful of whipped feta, leaving a 1cm border. Transfer to oven and cook for 4-5 minutes. Spoon over prawns and garlic butter and top with extra parsley leaves and serve.
Recipe, Food Styling and Photography by Karen McFarlane, foodlove.com.au
Ingredients
250g feta
3 tbs Greek yoghurt
100g unsalted butter
1 lemon, juiced
2 cloves garlic, finely grated
500g raw peeled prawns
4-5 sprigs continental parsley, finely chopped, plus extra to serve
olive oil, for frying
sea salt & cracked black pepper
Pizza Dough
550g plain flour
2 tsp (7g) dry yeast
1 tsp honey
375ml bottle beer, at room temperature
2 tsp salt