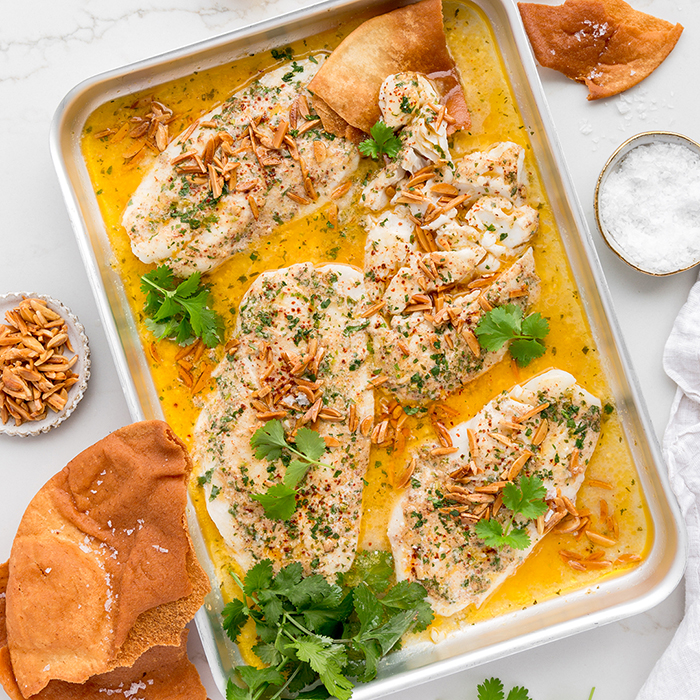 Lebanese Spicy Steamed Fish
PREP TIME

15 mins

COOK TIME

20 mins
Method
Heat butter in a small saucepan over medium heat until foamy. Add almonds and cook for 1 minute, or until golden. Remove nuts with a slotted spoon and transfer to a plate. Add garlic and chilli to butter and cook for 30 seconds until fragrant. Whisk in tahini, lemon juice and coriander until combined. Remove from heat and season with salt and pepper.
Place fish onto a baking tray and spoon over tahini sauce to cover each fillet generously. Transfer fish tray to your Nexus Steam oven. Steam for 8-10 minutes at 100°C until the fish is just cooked through and flaking apart.
To serve, top with nuts, extra coriander and serve with pita bread on the side for scooping up the fish.
Recipe, Food Styling and Photography by Karen McFarlane, foodlove.com.au
Ingredients
100g unsalted butter
40g slivered almonds
3 cloves garlic, finely chopped
½ tsp Aleppo pepper or dried chilli flakes
2 tbs tahini
2 tbs lemon juice
4 sprigs fresh coriander, finely chopped, plus extra to serve
4 x white fish fillets, such as orange roughy or John Dory
fried pita bread, to serve