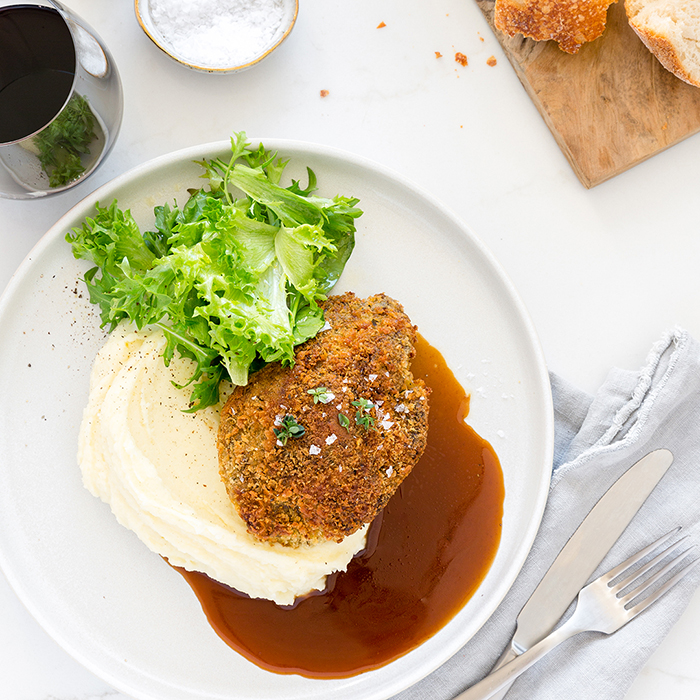 Crumbed Slow-Cooked Beef Cheek with Jus
PREP TIME

30 mins

COOK TIME

4 hrs 30 mins
Method
Preheat oven to 140°C Fan or 160°C Conventional.
Place stock, onion, leek, carrot, celery, garlic and beef cheeks in a large casserole or ovenproof saucepan. Cover with a lid and bring to a simmer, then transfer to the oven for 2 ½ to 3 hours until the beef is very tender. Cool the beef in the stock until it stops steaming, then transfer to a small tray lined with baking paper. Place another sheet of baking paper on top, cover with another tray and place something from your fridge on top to weigh down a little. Transfer to the fridge for 2 hours to cool.
Strain stock through a fine sieve into another saucepan, discarding vegetables. Set stock aside.
Preheat oven to 220°C Fan or 240°C Conventional.
Place the beef bones in a tray and roast for 20 minutes until caramelised. Transfer bones to stock and place over a medium heat. Bring to a gentle simmer then reduce to a very low heat for 1 hour.
Strain stock into another saucepan, discarding bones. Place over a medium heat and simmer until reduced to 250ml. Whisk in xanthan gum and allow to stand for 5 minutes to slightly thicken.
Remove beef from fridge and season with salt and pepper. Place flour and eggs in separate bowls. Place panko and thyme in another bowl and toss to combine. Coat each beef cheek in flour, shaking off excess, then into egg, allowing excess to drip off, then press firmly into the thyme panko crumbs to fully coat. Transfer to a plate.
Heat grapeseed oil in a large frypan over a medium heat. Cook for 3-4 minutes a side until golden. Serve with mashed potato, beef jus and dressed salad greens.
Recipe, Food Styling and Photography by Karen McFarlane, foodlove.com.au
Ingredients
1.5 litres salt-reduced beef stock
1 onion, peeled & quartered
1 leek, roughly sliced
1 carrot, roughly sliced
1 stick celery, roughly sliced
1 head garlic, cut in half horizontally
4 small beef cheeks, trimmed
1kg small beef bones
⅛ tsp xanthan gum
½ cup plain flour
2 eggs, beaten
100g panko breadcrumbs
1 tsp chopped fresh thyme
grapeseed oil, for frying
mashed potato & salad greens, to serve
sea salt & cracked black pepper