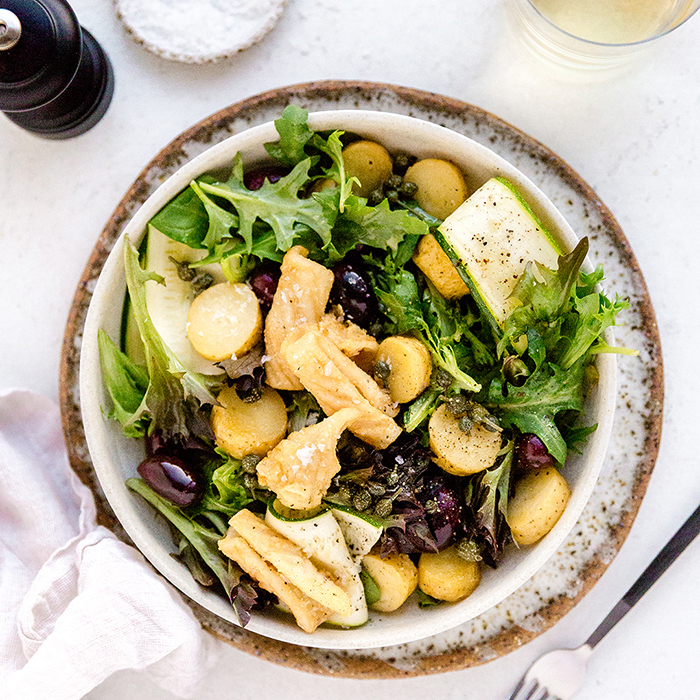 Warm Squid, Caper & Confit Potato Salad
PREP TIME

30 mins

COOK TIME

1 hr 10 mins
Method
Preheat oven to 140°C Fan or 160°C Conventional.
Place oil in a medium ovenproof saucepan. Add potatoes and salt, adding more oil if the potatoes aren't covered. Transfer to oven and bake for 1 hour until potatoes are tender. Remove potatoes with a slotted spoon and transfer to a plate.
Place the saucepan of oil over a high heat until it reaches 180°C. Lightly dust the squid in corn flour, shaking off the excess. Add squid to the hot oil and cook for 1-2 minutes until lightly golden and tender. Drain on paper towel and season with salt and pepper.
Whisk together the lemon juice, olive oil and mustard in a large bowl and season with salt and pepper. Add zucchini, capers, olives, lettuce, potatoes and squid. Gently toss to coat in dressing.
Recipe, Food Styling and Photography by Karen McFarlane, foodlove.com.au
Ingredients
500ml light olive oil
3 cloves garlic, crushed
400g kipfler potatoes, scrubbed & cut into 1cm thick slices
1 tsp salt
4 small squid, cleaned, scored & cut into 4cm pieces
½ cup corn flour
3 tbs lemon juice
2 tbs extra virgin olive oil
1 tsp Dijon mustard
100g mixed lettuce leaves
1 zucchini, thinly sliced lengthways on a mandolin
1 tbs capers in vinegar, drained
100g pitted Kalamata olives
sea salt & cracked black pepper