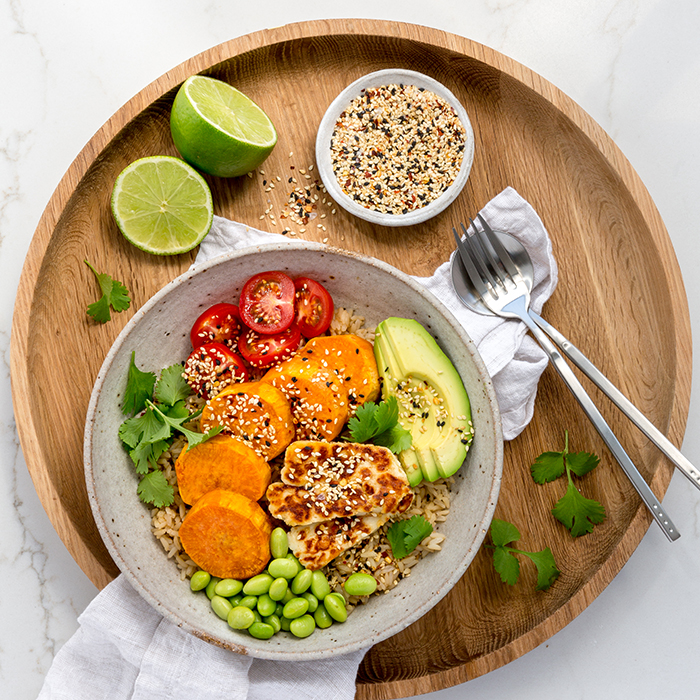 Vegetarian Ohana Bowl
PREP TIME

20 mins

COOK TIME

25 mins
Method
Preheat oven to 180°C Fan.
For spice mix, combine all ingredients in a small bowl and set aside.
Place the rice in a baking tray and add 3 cups of water and ½ teaspoon of salt. Place in steam oven for 25 minutes at 100°C until water has been absorbed and rice is cooked. Remove from oven, cover loosely with a clean tea towel. Allow to stand for 10 minutes before fluffing with a fork.
Meanwhile, toss the sweet potato with olive oil and season with salt. Roast for 20 minutes until tender and lightly caramelised around the edges.
Heat a teppanyaki plate or non-stick fry pan over medium-high heat. Cook halloumi slices for 2-3 minutes a side until golden brown.
To serve, spoon rice into serving bowls and top with sweet potato, halloumi, tomatoes, edamame, avocado, and sprinkle over some Everything Spice mix. Top with coriander and serve with a squeeze of lime over the top.
Recipe, Food Styling and Photography by Karen McFarlane, foodlove.com.au
Ingredients
2 cups brown rice, rinsed
1 sweet potato, cut into 1cm thick rounds
1 tbs olive oil
225g halloumi, cut into 1cm slices
200g cherry tomatoes, halved
200g frozen edamame, thawed
1 avocado, sliced
fresh coriander & lime wedges, to serve
Everything Spice
1 tbs white sesame seeds, toasted
1 tsp black sesame seeds
¼ tsp dried chilli flakes
½ tsp dried garlic
½ tsp sea salt