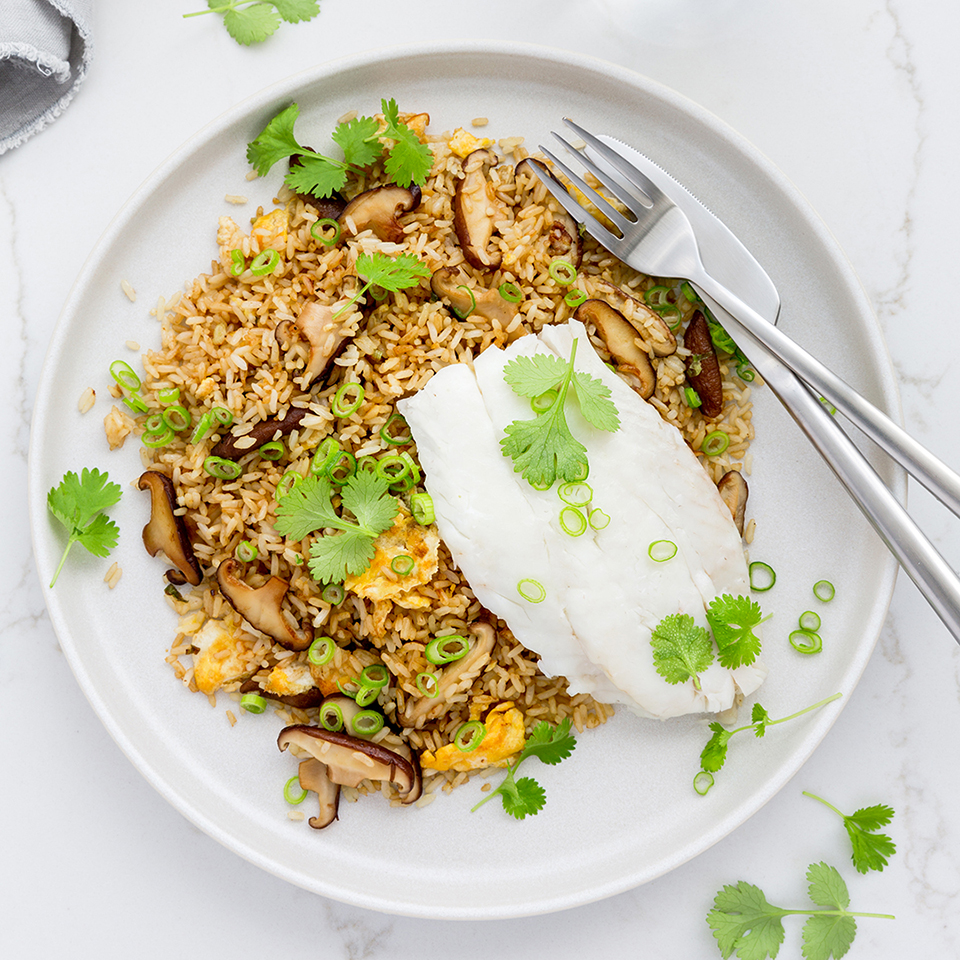 Steamed Coral Trout with Shiitake Fried Rice
PREP TIME

15 mins

COOK TIME

20 mins
Method
Place 1 egg yolk in a large bowl and the whites in another small bowl with the 2 remaining eggs and lightly whisk. Set aside. Add 1 tablespoons of oil to the egg yolk and whisk to combine. Add the rice and toss to coat well in the egg and oil mixture. Set aside.
Heat half the remaining oil in a wok or large non-stick frypan over medium-high heat. Add spring onions, garlic, ginger and mushrooms. Stir-fry for 2-3 minutes until mushrooms are caramelised and tender. Transfer to a plate.
Add the remaining oil to wok, followed by the whisked eggs and whites, swirling to make a thin omelette. Once the base of the omelette is set, add rice to wok and toss while breaking up the egg into smaller pieces. Return the vegetables to wok. Add the soy sauce, sugar and continue to stir-fry for 2 minutes until the rice is coated with the soy and is heated through.
Meanwhile, season fish fillets with salt and transfer to the perforated tray in your Nexus Steam oven. Steam for 8-10 minutes at 100°C until just cooked through and flaking apart.
Serve fish over shiitake fried rice and top with extra spring onions and coriander.
Recipe, Food Styling and Photography by Karen McFarlane, foodlove.com.au
Ingredients
3 eggs, divided
600g pre-cooked jasmine rice
3 tbs grapeseed oil
3 spring onions, thinly sliced, plus extra to serve
1 clove garlic, finely grated
1 tsp finely grated fresh ginger
200g shiitake mushrooms thinly sliced
2 tbs light soy sauce
pinch caster sugar
4 skinless coral trout fillets
fresh coriander, to serve
sea salt