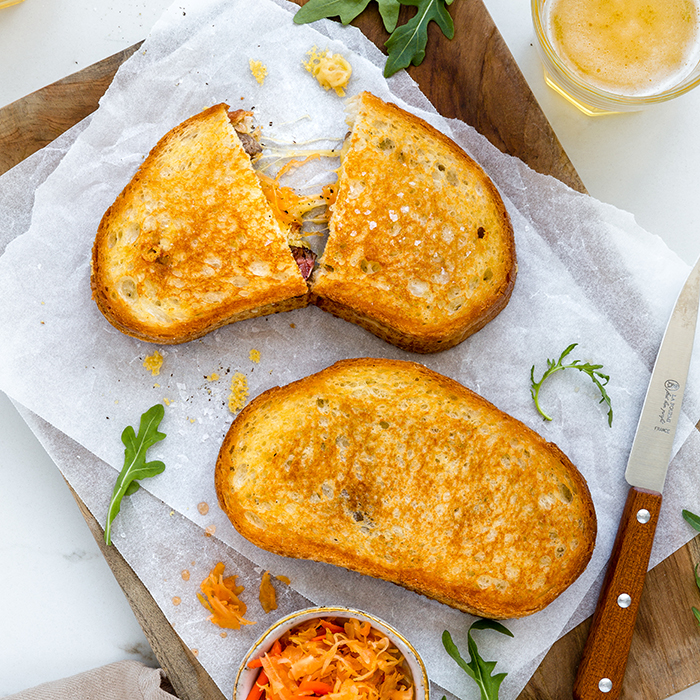 Steak, Kimchi & Smoked Cheddar Grilled Cheese Sandwich
PREP TIME

20 mins

COOK TIME

10 mins
Method
Preheat teppanyaki plate, or a large non-stick fry pan, over medium-high heat. Season steaks with salt and cook for 3-4 minutes a side, or until cooked to your liking. Transfer to a plate to rest for 5 minutes, then thinly slice. Wipe down teppanyaki plate or fry pan with paper towel so you can use it again.
To assemble sandwiches, butter one side of each slice of bread and place butter-side-down onto a board. Layer with cheese, steak, kimchi, more cheese and a good grinding of black pepper. Place another slice of bread on top with the butter facing up and repeat with remaining ingredients to make 4 sandwiches.
Transfer sandwiches to the teppanyaki plate or fry pan over medium heat and cook for 2 minutes a side, or until the cheese has all melted and the bread is golden brown and crisp. Serve hot.
Recipe, Food Styling and Photography by Karen McFarlane, foodlove.com.au
Ingredients
2 scotch fillet steaks, at room temperature
8 slices sourdough bread
salted butter
140g smoked cheddar, coarsely grated
1/2 cup (75g) kimchi, drained
sea salt & cracked black pepper