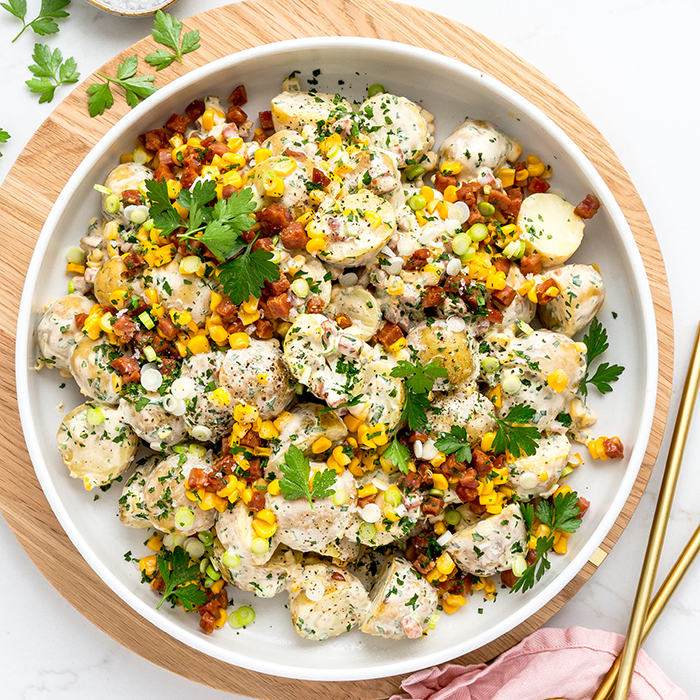 Corn & Chorizo Potato Salad
PREP TIME

20 mins

COOK TIME

25 mins
Method
Place the potatoes in a large saucepan of well salted water and boil for 15-20 minutes until tender. Drain and leave to cool in a colander.
Whisk together all the ingredients for the dressing and season with salt and pepper. Set aside.
Heat a non-stick fry pan over medium heat. Add chorizo and cook for 3-4 minutes until the fat is rendered and the chorizo is lightly caramelising. Add the corn and cook for a further 2 minutes until tender. Remove from heat.
Place the potatoes in a large serving bowl. Add the dressing, parsley, spring onions, half the chorizo and corn and mix to combine. Scatter the remaining chorizo and corn over and top with extra spring onion and parsley.
Recipe, Food Styling and Photography by Karen McFarlane, foodlove.com.au
Ingredients
1.5kg new potatoes, scrubbed
2 cured chorizo sausages, finely diced
1 cup corn kernels (about 2 cobs)
½ bunch continental parsley, finely chopped, plus extra to serve
5 spring onions, finely sliced, plus extra to serve
sea salt & cracked black pepper
Dressing
½ cup sour cream
2 tbs mayonnaise
1 tsp Dijon mustard
2 tbs apple cider vinegar