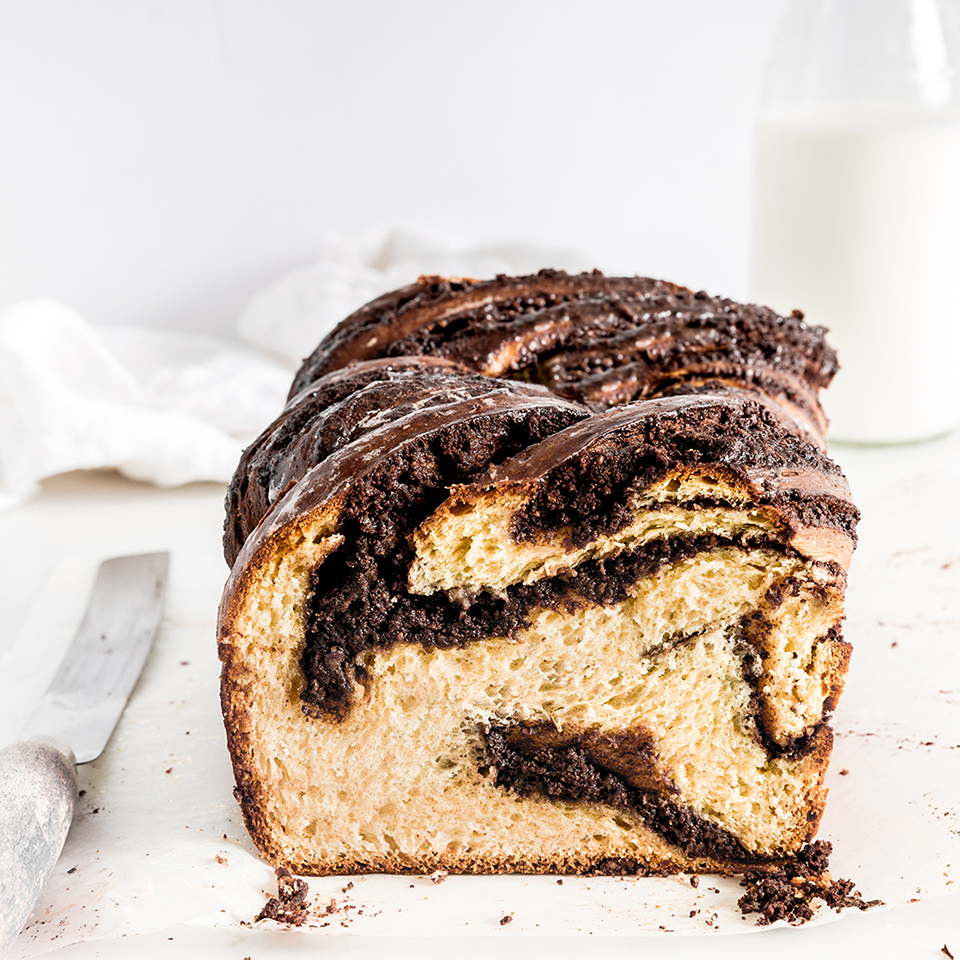 Chocolate Hazelnut Babka
PREP TIME

30 mins

COOK TIME

50 mins
Method
Combine yeast, milk and a teaspoon of the caster sugar in a small jug and stand for 5 minutes until foamy. Place the remaining sugar, flour and salt in the bowl of a stand mixer fitted with a dough hook and mix to combine. Pour in the yeast mixture, egg and egg yolks and knead until smooth. With the mixer still going, add one piece of butter at a time to the dough until fully incorporated. Continue to knead the dough until the texture is smooth and springy. Cover the bowl with a damp cloth and place in a proving drawer, or in a warm place, for 1 hour until doubled in size.
Preheat oven to 150°C Fan.
Line a 10cm x 25cm loaf tin with baking paper.
To make the filling, combine all the ingredients in a bowl until you have a smooth paste.
Roll out the dough on a lightly floured bench to a rough 30cm x 40cm rectangle. Spread the paste onto the dough, covering it entirely. Roll up the dough from the longest edge so you have a log shape. Use a sharp knife to cut the dough lengthways down the centre of the log, leaving one end still attached. Plait the two halves together, overlapping each other alternatively to reveal all the layers. Transfer to prepared loaf tin and tuck the ends in neatly. Cover with a damp cloth and place in a proving drawer, or in a warm place, for a further 30 minutes until risen again. Transfer to oven and bake for 50 minutes until cooked through. Cool in the tin for 15 minutes before transferring to a wire rack to cool for at least 1 hour before slicing.
Recipe, Food Styling and Photography by Karen McFarlane, foodlove.com.au
Ingredients
14g dry yeast (2 sachets)
¾ cup (180ml) lukewarm milk
½ cup (110g) caster sugar
600g plain flour
1 tsp salt
2 eggs
2 egg yolks
150g unsalted butter, diced, softened
Filling
100g unsalted butter, softened
100g hazelnut meal
200g 70% cocoa dark chocolate, melted
½ cup (110g) caster sugar
¼ tsp sea salt