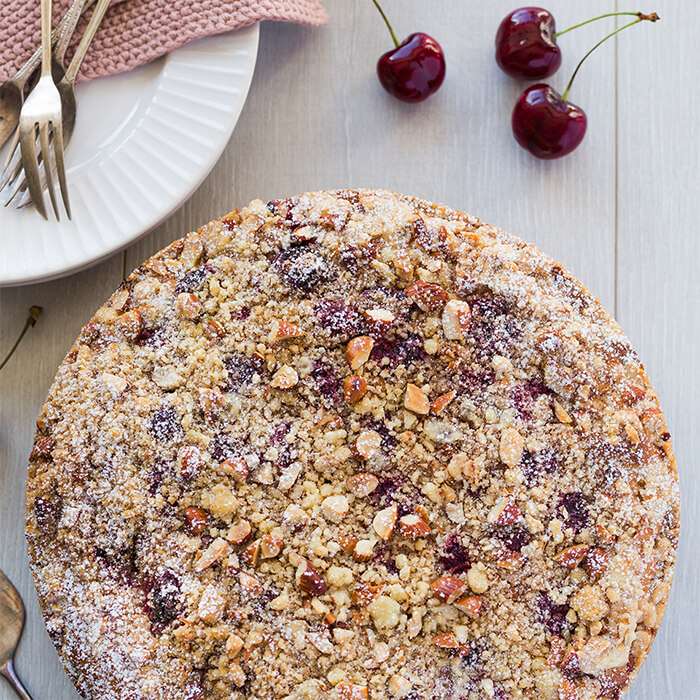 Cherry & Ricotta Crumble Cake
PREP TIME

25 minutes

COOK TIME

1 hr
SERVES

10-12 servings

SKILL LEVEL

Easy
Method
Preheat oven to 160°C Fan.  Grease a 24cm springform tin with butter.
Place cherries and orange juice in a saucepan over medium heat. Cook for 5 minutes until cherries begin to soften. Strain cherries and reserve cherry syrup. Set cherries aside to cool.
For crumble, rub butter into flour until mixture resembles coarse breadcrumbs. Stir in caster sugar, almonds and cinnamon and set aside.
For the sponge, place all ingredients in the bowl of an electric mixer fitted with a paddle attachment. Beat until smooth and combined (don't over beat). Pour into prepared cake tin and smooth the top.
Place ricotta, icing sugar, egg and 1 teaspoon of orange zest in a bowl and mix well to combine. Dollop evenly over cake batter then arrange cherries evenly over ricotta. Sprinkle with crumble mixture and bake for 50 minutes until golden and cooked in the centre of the cake. Cool completely in cake tin before transferring onto serving plate. Dust with icing sugar and serve with reserved cherry syrup.
Recipe, Food Styling and Photography by Karen McFarlane, foodlove.com.au
Ingredients
400g cherries, pitted
1 orange, juiced & zested
300g firm ricotta
2 tbs icing sugar, plus extra for dusting
1 egg
Sponge
175g unsalted butter, melted
150g caster sugar
250g self-raising flour
3 eggs
125ml milk
2 tsp vanilla extract
Crumble Topping
60g cold unsalted butter, diced
60g plain flour
50g caster sugar
60g almonds, roughly chopped
½ tsp ground cinnamon