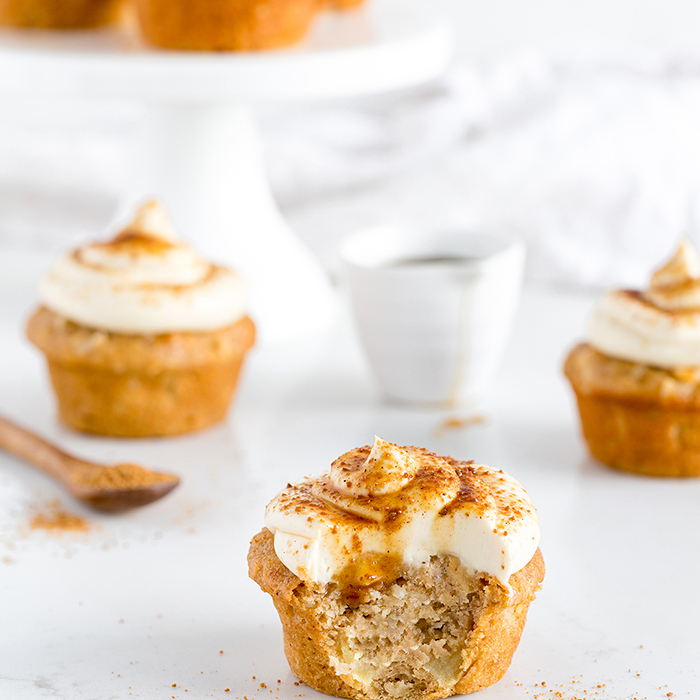 Chai Apple Cakes
PREP TIME

20 mins

COOK TIME

20 mins
Method
Preheat oven to 160°C Fan or 180°C Conventional.
Lightly grease a 12-hole muffin tin with butter.
Place flour, baking powder, baking soda, chai spice and salt in a bowl and whisk to combine.
In another bowl, combine apple sauce, milk, maple syrup, eggs and pour into dry ingredients. Mix to combine, then fold through diced apples, coconut and butter until just combined.
Divide mixture between muffin holes and bake for 20 minutes until cooked through. Cool.
For frosting, beat cream cheese and maple syrup together until smooth. Pipe or spread frosting over each of the cupcakes. Combine coconut sugar and chai spice and sprinkle over cupcakes. Finish with a drizzle of maple syrup.
Recipe, Food Styling and Photography by Karen McFarlane, foodlove.com.au
Ingredients
200g plain flour
1 ½ tsp baking powder
½ tsp baking soda
2 tsp ground chai masala spice, plus extra for dusting
¼ tsp salt
1 cup apple puree or apple sauce
½ cup milk
½ cup maple syrup
3 eggs, lightly beaten
2 red apples, peeled & cut into 1cm dice
1 cup (90g) shredded coconut
80g unsalted butter, melted
Topping
500g cream cheese, at room temperature
½ cup maple syrup, plus extra for drizzling
¼ cup coconut sugar
1 tsp ground chai masala spice