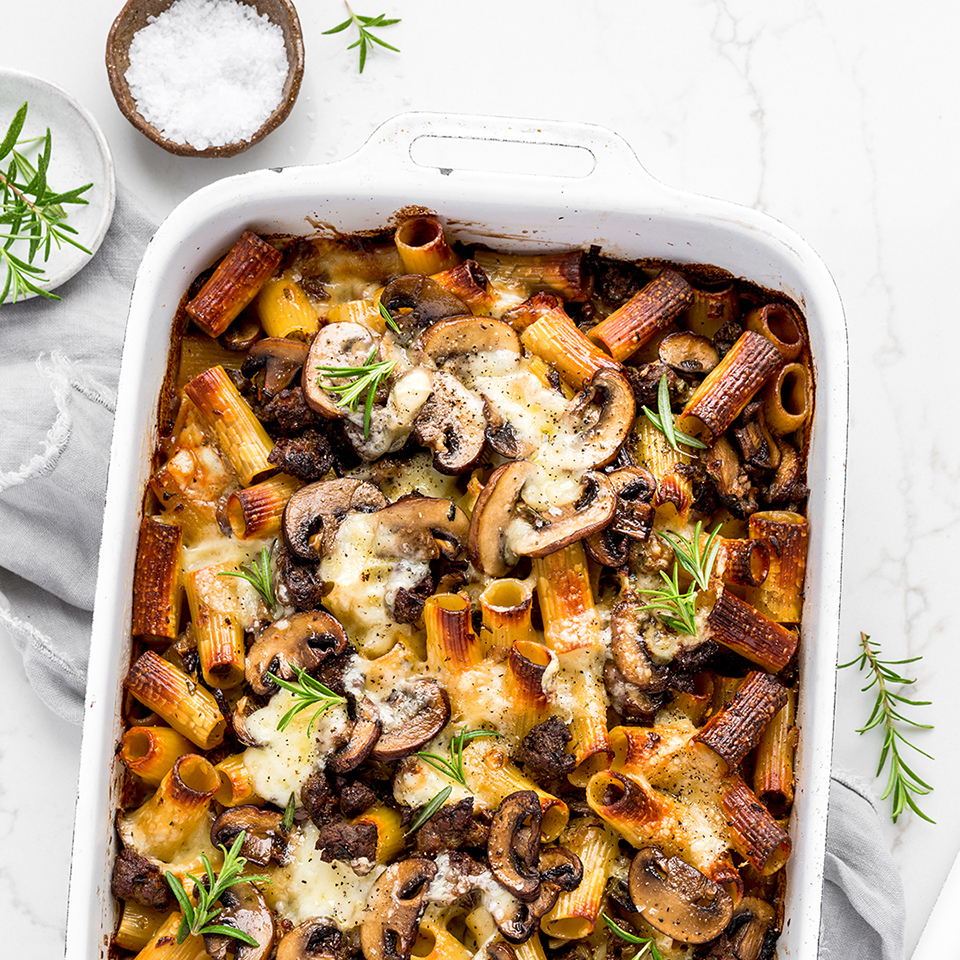 Baked Pork Sausage & Mushroom Pasta
PREP TIME

20 mins

COOK TIME

35 mins
Method
Preheat oven to 180°C Fan Assist.
Place porcini mushrooms in a small heatproof bowl and cover with boiling water. Allow to stand for 15 minutes to rehydrate.
Meanwhile, heat oil in a large non-stick frypan over medium-high heat. Add the sliced mushrooms and cook, tossing occasionally, for 4-5 minutes until caramelised and tender. Transfer to a plate. Return pan to heat and add the pork sausage and onion, breaking up the sausage with a wooden spoon, until browned and the onion is soft. Add the garlic and rosemary and cook for a further 1 minute until fragrant. Add the stock, cream and bring to a simmer. Remove the porcini mushrooms from the water and roughly chop. Add porcini to the sauce and season with salt and pepper. Remove from heat.
Cook the pasta in a large saucepan of salted boiling water for half the amount of time as recommended on the packet. Drain pasta and combine with sauce. Stir through half the fontina, then transfer to a greased 20cm x 30cm baking dish. Scatter the remaining fontina and some rosemary sprigs over the top and bake on the middle shelf for 15 minutes until golden and bubbling.
Recipe, Food Styling and Photography by Karen McFarlane, foodlove.com.au
Ingredients
20g dried porcini mushrooms
2 tbs olive oil
400g swiss brown mushrooms, sliced
400g Italian pork sausages, casings removed
1 onion, finely diced
2 cloves garlic, finely chopped
1 sprig fresh rosemary, finely chopped, plus extra for the top
2 cups chicken stock
300ml cream
500g dried rigatoni pasta
250g fontina cheese, diced (or mozzarella)