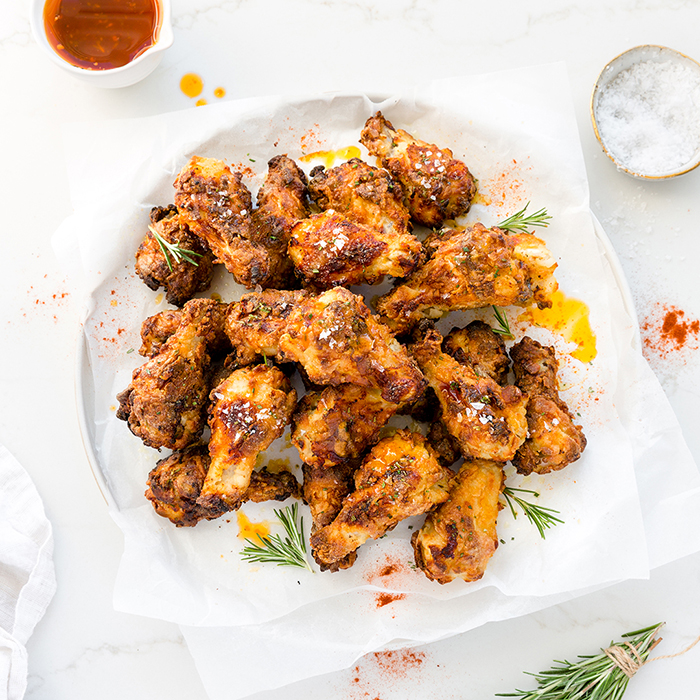 Baked Crispy Chicken Drumettes with Rosemary Honey Butter
PREP TIME

20 mins

COOK TIME

30 mins
Method
Place chicken in a large bowl and toss with salt and garlic. Add the buttermilk and mix to combine. Cover and refrigerate for 4 hours or overnight.
Preheat oven to 200°C Fan Assist.
In a bowl, whisk together the plain and rice flour until combined. Line 2 large baking trays with baking paper. Lift a piece of chicken out of the buttermilk, allowing excess to drip off, then toss in the flour to coat, shaking off excess. Transfer to baking tray and repeat with remaining chicken.
Drizzle the chicken with grapeseed oil and bake for 30 minutes, turning after 20 minutes, until golden and crisp.
Meanwhile, for rosemary honey butter, place all the ingredients in a small saucepan over medium heat until melted and combined.
Serve chicken drizzled with rosemary honey butter.
Recipe, Food Styling and Photography by Karen McFarlane, foodlove.com.au
Ingredients
1.5kg chicken drumettes
1 ½ tsp salt
2 cloves garlic, minced
600ml buttermilk
1 cup plain flour
1 cup rice flour
grapeseed oil, for drizzling
Rosemary Honey Butter
125g unsalted butter
2 tbs honey
1 tsp smoked paprika
1 sprig rosemary, leaves picked & finely chopped
½ tsp sea salt