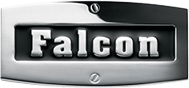 PROFESSIONAL+ 110CM INDUCTION RANGE COOKER
PROP110EI5
PROP110EI5
Falcon's Professional+ 110cm induction range cooker features three cooking cavities – a separate electric glide-out grill and two fan forced electric ovens.  Plus 5 induction zones including residual heat indicators and pan detectors.  With multiple cooking zones it is easy to prepare different meals at the same time at their required temperatures.  No need to  juggle for space or average out temperatures, when dishes can be cooked in their own space.  Talk about flexibility!
Made in Britain since 1830.
Selected colours in the range are special order only.
Please refer to the Falcon pricelist under Brochures for a full list of special order models, along with terms and conditions of sale.
| | |
| --- | --- |
| Product type | Range cooker |
| Product range | Professional+ |
| Fuel type | Induction |
| Colours | Black (GB), Stainless Steel (SS) |
| Cooker Width | 110cm |
| Style cooker | Contemporary |
| Features | Catalytic liners, Handy rack, Pan detector, Programmable clock, Residual heat indicators, Storage drawer - half width |
| Oven litres | 79 (LH), 79 (RH) |
| Internal Oven Capacity (mm) - WxDxH | 466 x 385 x 438 (LH), 466 x 385 x 438 (RH) |
| Oven type | Fan forced electric (LH), Fan forced electric (RH) |
| Oven door | Side opening |
| Grill | Separate electric glide-out |
| Hob configuration | 5 induction zones |
| Fittings | Chrome (CH) |
| Made in | UK |
| P&L warranty (Years) | 5 |
| Width (mm) | 1100 |
| Depth ex / inc handles (mm) | 608 / 645 |
| Height adjustable (mm) | 905 - 930 |
| Rated Connected Load (AMPS) | 74 |
| Important electrical information | The product flyer specifications (available via DOWNLOADS) notes both a Rated Connected Load (AMPS) and Electrical Connection# (AMPS). Rated Connected Load refers to the total electrical demand required to operate a Falcon cooker at its maximum capacity (all ovens and zones). Electrical Connection# refers to an assessed maximum demand as permitted in the Wiring Rules. This provides an alternative to 3 phase connections and electrical installations where the total demand of the appliance cannot be supplied. In this instance not all ovens and zones can be used at once. Consult with a licensed electrician for further information or contact us for further technical information on 1300 650 020 or via service@andico.com.au. |
| Direct delivery | Direct delivery of Falcon appliances is available free for those residing within eligible postcodes in metropolitan areas. |
Features & Functions of this appliance.
"Images are for illustrative purposes only. Visuals may vary depending on the model."
Accessories that match with this product.
Our brands continuously seek improvements in specification, design and production of products and thus, alterations and design changes take place periodically. Images are for illustrative purposes only. Whilst every effort is made to maintain up-to-date material, this information should not be regarded as an infallible guide to current specification, nor does it constitute an offer for the sale of any particular appliance.