Congratulations! You've made the right decision purchasing a Liebherr BioFresh refrigerator. Knowing your fresh fruit, vegetables, meat, seafood and dairy can last significantly longer than a conventional refrigerator crisper means less trips to the grocery store, plus the added bonus of less spoilage as the extended shelf life offers more time to consume them. Owning a Liebherr BioFresh refrigerator is just the first step though, knowing how to use it to optimise produce lifespan is the second. Whilst the instruction manual that accompanies your appliance offers guidance, we have also put together some recommendations of how best to use the BioFresh drawers, storage recommendations and how BioFresh storage benefits both you and your food types.
BioFresh, BioFreshPlus & Humidity Control
BioFresh drawers have a temperature of just above 0°C. BioFreshPlus drawers have the added flexibility of adjusting the temperature from -2°C (fish and seafood) and 0°C.  Plus selected models offer 6°C ideal for more sensitive fruits. Keeping the temperature accurate combined with high humidity or low humidity depending on the food type, is the reason why food can remain fresher for significantly longer than traditional fridges. Ensuring the correct humidity is an important step in maintaining longer freshness. DrySafe (low humidity) is best for dry or wrapped foods like dairy, meat, fish and cold meats. A dry environment can be achieved by sliding the humidity control to the left. HydroSafe (high humidity) is best for unwrapped foods with high moisture content such as many fruits and vegetables. A humid environment can be achieved by sliding the humidity control to the right.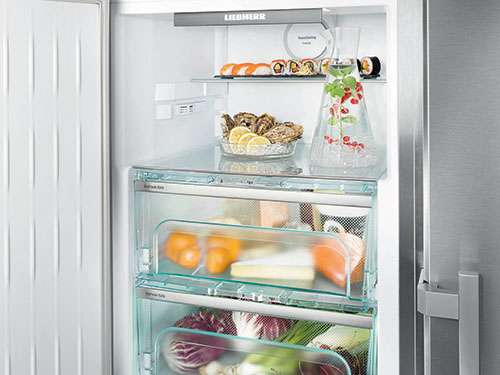 Liebherr's BioFresh APP
Some food types are best not stored in a BioFresh compartment as they are sensitive to cold such as Hard Cheese, Potatoes, Pineapple, Avocado, Pumpkin, Zucchini, Citrus Fruits, Green Beans, Cucumbers and Eggplant. If your appliance offers BioFreshPlus these food types can be stored at 6°C (note not all BioFreshPlus models offer 6°C).  Alternatively they can be placed in another drawer or container in the refrigerator (which is usually set at 3°C). So with an abundance of fruit, vegetables, fish, seafood, meat and dairy varieties available how do you know what to store, the optimum humidity and the best temperature?
To make things a little easier Liebherr have a free BioFresh App available for download via your SmartPhone or Android App store. Under seven categories (Fruit, Vegetables, Cheese, Dairy Products, Fish & Seafood, Meat & Sausages, Bakery Products) there are close to 150 food items listed offering the best storage advice (Fridge vs BioFresh vs BioFreshPlus) and the humidity. It even tells you what vitamins and minerals the food contains. Search Liebherr BioFresh in the App store.
Want to know more?
Need a little more information? Why not visit the Liebherr : And-Co Australia YouTube channel to view the BioFresh and BioFreshPlus instructional videos. We also highly recommend reading the instructional manual which accompanies your appliance as it will offer specific guidance relating to your appliance.