When it comes to appliances, rangehoods are often underrated and overlooked. They can be one of the last decisions, with functionality becoming less of a key factor in the decision making process, and more focus on what funds remain in the budget.
The fact is rangehoods play a very important role in the kitchen, particularly for those who use their cooktop regularly. It can even assist when cooking in ovens such as the Falcon upright range cookers that vent at the top rear of the hob. A rangehood uses a fan (sometimes two) to filter the air while you are cooking and for the preceding moments following completion.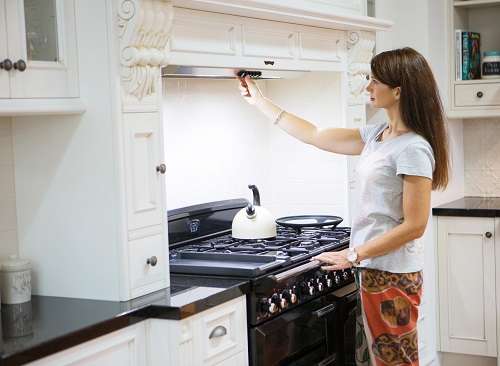 Key roles that rangehoods perform are:
– drawing moisture / steam away from surrounding cabinetry.
– minimising excess odour build-up in the kitchen.
– minimising smoke in the kitchen (especially if you accidentally burn your food!).
– minimising air born grease build up on surrounding cabinetry.
– drawing heat generated from the burners / elements and cooking apparatuses away from your face and body.
– removing particles that can be irritating to the eyes and throat.
– they offer additional lighting directly above the hob surface and subsequently a better view of how your cooking is progressing.
Factors to consider when purchasing a rangehood include not only the design, we all want it to suit our kitchen styles, but the functionality.
– It needs to have a powerful fan motor to perform properly.
– You want it to be as quiet as possible – there is nothing worse than cooking with a rangehood that sounds like a jet engine landing, rendering you deaf to any other sounds in your household.
– Being able to vary the speed of the fan is also a bonus. This means you have control over the type of ventilation required depending on the foods you are cooking. More odour and steam, means you can turn it up to fullest potential, whilst light cooking such as a toasted sandwich would require only minimal effort on the rangehood's part.
– The filters need to be cleaned regularly. To clean the filters refer to the rangehood operating instructions. Without regular cleaning of the filters and surrounding cabinetry areas, they can become a fire hazard due to the build-up of grease.
– Undersize ducting , long ducting runs and bends can adversely affect rangehood performance and increase noise. Optimum performance can be achieved by using semi-ridged ducting, matched to the rangehood outlet size, with a maximum length of 3 metres and suitable roof cowl or wall grille.
Falcon offer a range of complementary hoods to suit the Falcon upright range cookers including canopies and integrated rangehoods in varying sizes, colours and styles. The one thing they all have in common though is the powerful extraction rates they offer and flexible extraction speeds. Visit the Falcon website to view the complete range of Falcon rangehoods.