Whilst the sight of melted chocolate is enough to make you drool, it is definitely something none of us want to witness on our cooktop. The gooey, thick mess would be a nightmare to clean – not to mention a waste of all the brown liquid goodness. But unlike with traditional electric cooktops where you would bear witness to such a crime, if you are cooking with induction technology you need not worry about wasted chocolate (or any other food type for that matter) if you accidentally drop it over the edge of the pan. Why? Because with induction cooking only the pan is heated, not the hob surface. A magnetic field is used to generate the heat through the pan which is a more even heat when compared to ceramic or gas which are often associated with hot spots. Induction also uses precious little energy and heats up quicker than traditional ceramic zones making them very efficient when it comes to both cooking and energy consumption.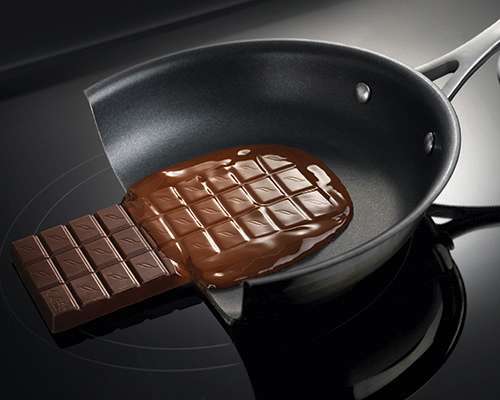 Let's delve into Falcon induction technology to be more specific.
Falcon upright cooker induction technology
Equipped with Falcon's premium i5™ technology our upright cookers are ultra-efficient, intelligent and smart.  So what actually makes them ultra-efficient, intelligent and smart?
– Pan detectors let you know if there is no pan in place or if it is too small for the zone by not generating heat.
– Residual heat indicators will display if the zones temperature exceeds 60°C to ensure you don't accidentally scold yourself.
– An overheat function will detect if a pan temperature rises rapidly and will work to maintain a safe pan temperature level.
– Prevent unwanted access to the cooktop when not in use by activating the hob child lock
– Rapidly reach the desired temperature with the automatic heat up function which allows the element to heat up quickly
– Bring large pots of water to the boil quickly with the selection of a power boost option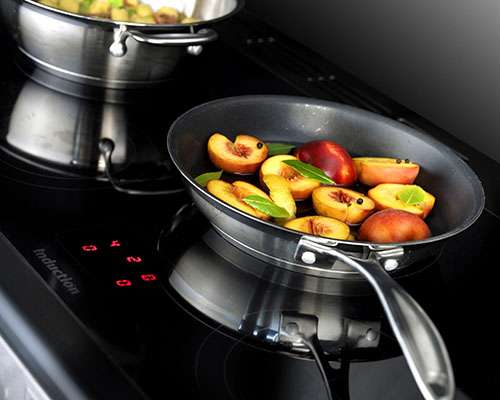 How to operate a Falcon upright induction cooktop
Falcon upright range cookers with induction hobs feature five cooking zones on both the 90cm and 110cm sizes.  Operating the induction hob is easy with front and central controls and display.  With 9 power levels (1-9) the induction zones are extremely flexible when it comes to simmering, boiling, searing and well done requirements.  Two additional settings are available, L1 and L2, which are best for gentle melting or simmering with respective temperatures of around 40°C and 90°C.
Peace of mind when it comes to safety
When it comes to safety, Falcon have got it covered.  All Falcon induction hobs have safety measures built in including maximum operating times for each zone.  The maximum operating time is reduced, as heat intensity increases.  A maximum of 6 hours (on power levels 1 and 2) to as little as 10 minutes when power boost is in operation.  If for some reason your cooking requirements exceed the maximum operating times, simply switch the zone back on.
Can you use any pots and pans on a Falcon induction hob?
Unfortunately not all cookware is suitable for induction which include ceramic, aluminium and copper.  Stainless steel, cast iron, or enamelled steel pots or pans with enamelled smooth, flat, thick bottoms are recommended for Falcon induction hobs.  Occasionally there are stainless steel varieties that are not suitable so it is always important to read the labels on the pots and pans in question.
For induction hobs the best pots and pans have a very slight curve when cold, which might not even be visible to the naked eye but if you hold a ruler across the bottom, a small gap may be visible.  This small gap means that when the cookware heats up, the metal will expand, allowing it to lie flat on the zones surface.  Never use pots that are oversized compared to the zones markings.  Same size or only mildly bigger than the areas marked on the hob should be used.
---
Want to know more about a Falcon induction upright range cooker?  Instruction manuals can be viewed via the Falcon website 'downloads' on each product page.  Alternatively our Customer Service Team is also available to assist with any questions you may have and can be reached via 1300 650 020 or [email protected].