Full Steam Ahead
Everything You Need To Know About The Nexus Steam
Combining a wide variety of cooking functions in one single appliance, the new Nexus Steam range cooker from Falcon features a dedicated steam cavity, a first for the Australian range cooking market. The freestanding design gives you the chance to combine convenience with healthy cooking, retaining nutrients, vitamins and flavour thanks to the innovative injection steam cavity. Steam is highly sought after in today's modern, multi function kitchens and with the new Nexus Steam, users will also have the benefit of oven roasting, batch baking and rapid cooking in one appliance. It can also grill, griddle, boil and simmer and it even comes with a dedicated proving drawer for dough. The new steam oven cavity also includes a temperature controlled, rapid heat up grilling function to finish or brown food to perfection.
The Ultimate Cooking Experience
Providing everything a home cook could want from a single appliance, the new NEXUS Steam range cooker from Falcon is a unique innovation for the range cooking market. As well as oven roasting, batch baking and rapid cooking, users can now benefit from a dedicated steam cavity that retains food's vitamins, minerals, nutrients, texture and taste.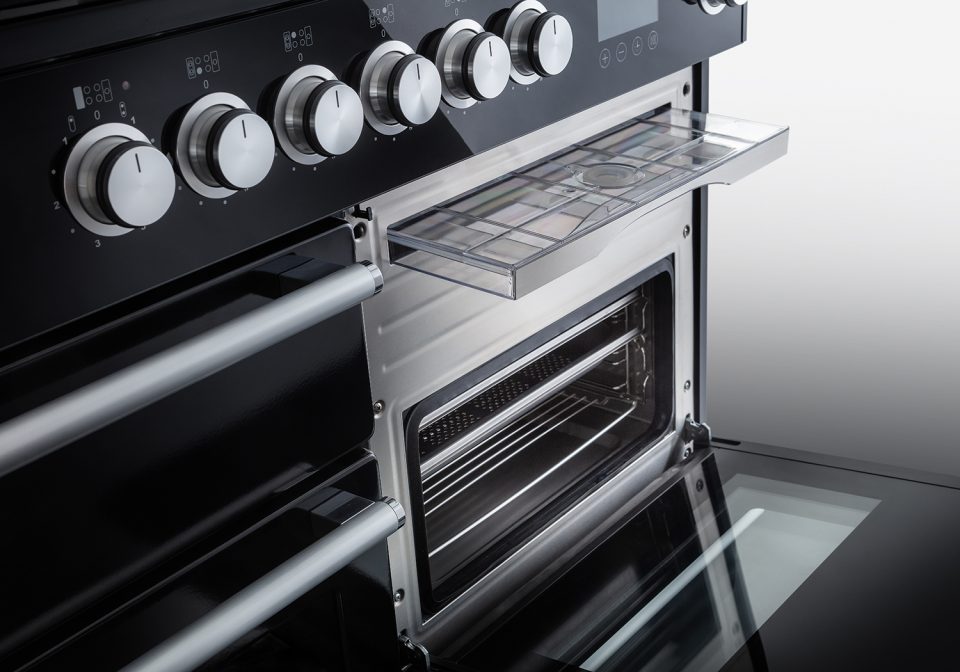 Why Use Steam Cooking?
Steam is a great way to cook a vast array of foods from eggs to fish, meat to vegetables, puddings to cheesecakes. When steaming foods, superior nutrients, texture and flavour are retained. With precise temperature control it enables everything from defrosting at 40°C to sous vide cooking around 57-64 °C to full steam at 100°C. It is effortless to say the least – just pop the food in, set the time and temperature, then press play and relax while the steam cavity does the work.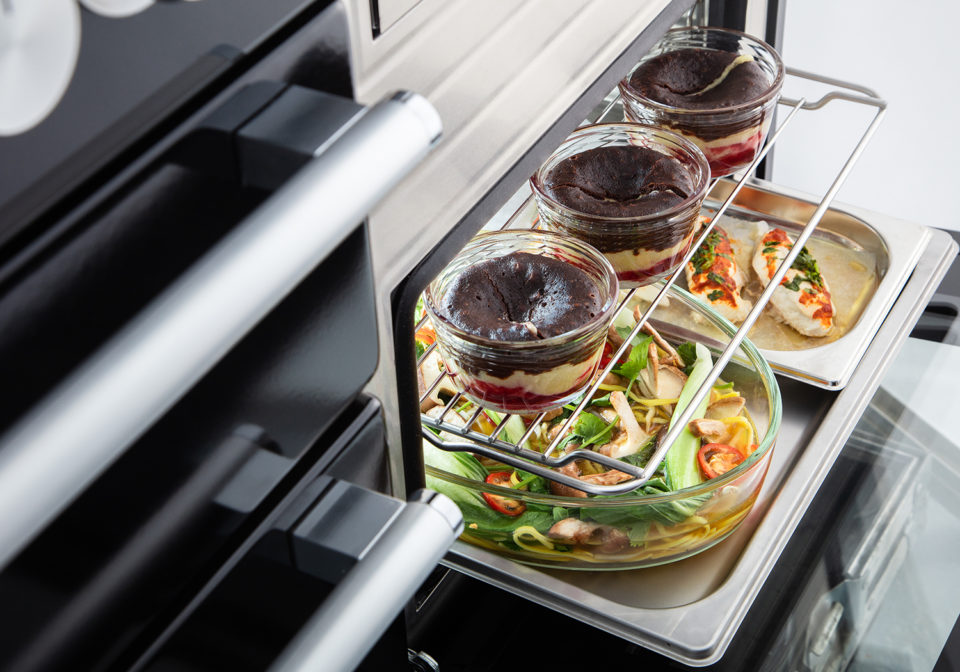 Cooking With Steam
There are many benefits to cooking with steam. When reheating dishes, lost moisture is restored which makes it perfect for leftovers. Cooking with steam is healthier with no oil or fat required. Fresh natural colours of food become more vibrant with the gentle cooking process and moisture is retained. Steam can even be used to sterilise bottles and jars for preserving. Accurate control of the temperature between 57-64°C for sous vide cooking is also achieved.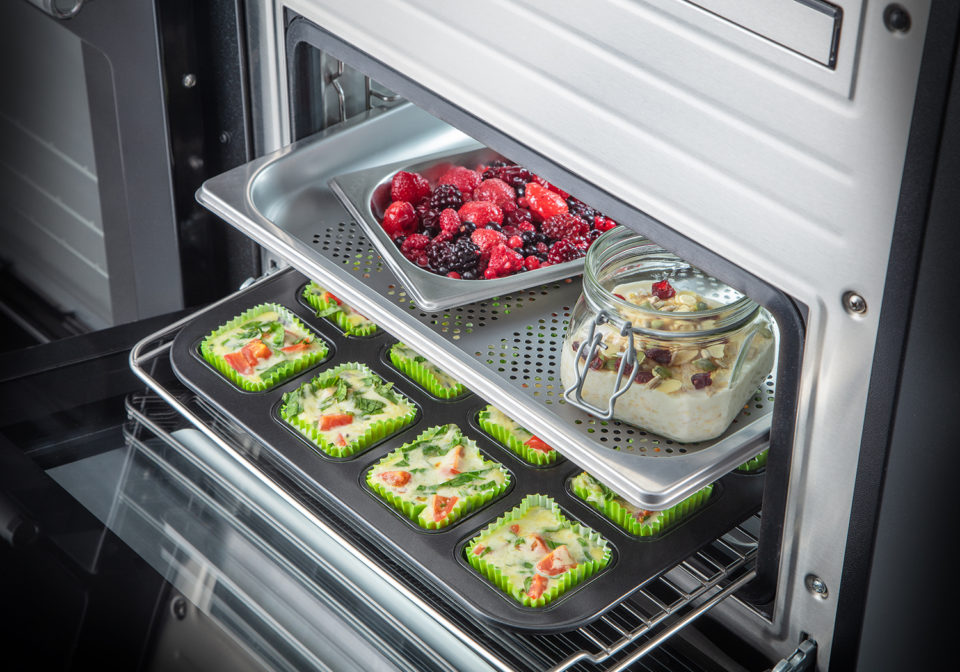 Flexible Gas Deluxe Hotplate
Falcon's spacious hob offers 5 gas burners and a multi-zone which allows you to choose between cooking directly on two ceramic 1.1kW zones or slot a durable non-stick griddle plate over the top to provide a healthy cooking surface the full depth of the cooktop. A multi-ring, large, medium (x2) and small gas burner offer flexibility when it comes to powerful, rapid, everyday and simmer style cooking.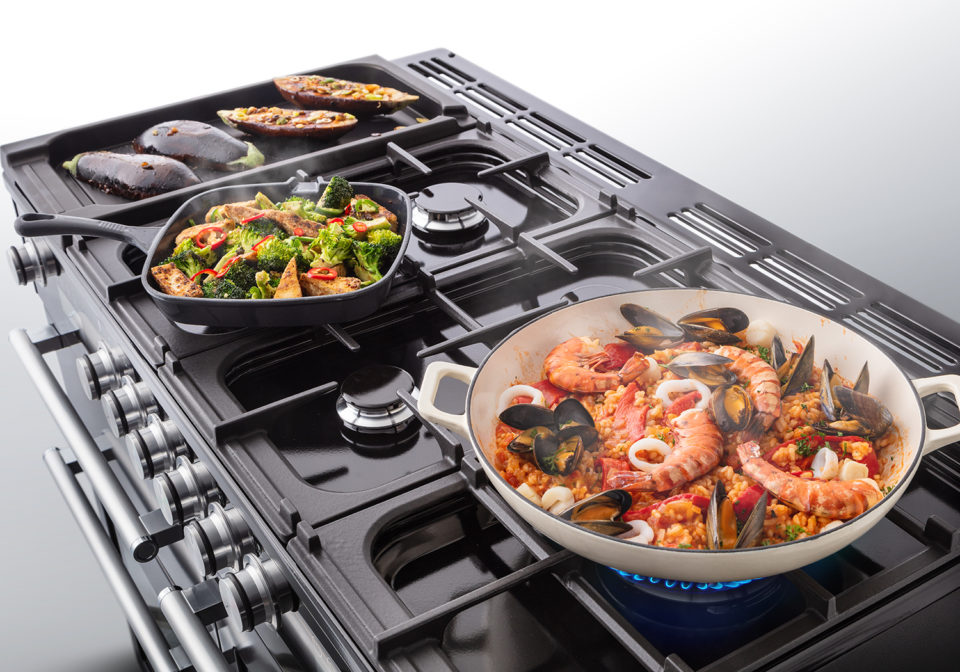 Controllable Induction Hob
Alternatively, if you prefer the option of a fast, responsive and incredibly controllable hob, the Nexus Steam is also available to choose with an Induction hob featuring 5 cooking zones with a bridging zone. This means that zones A and B can be bridged, creating an area ideal for use with the hard wearing, light weight induction griddle supplied. It also includes three low temperature settings and a power boost setting for maximum power instantly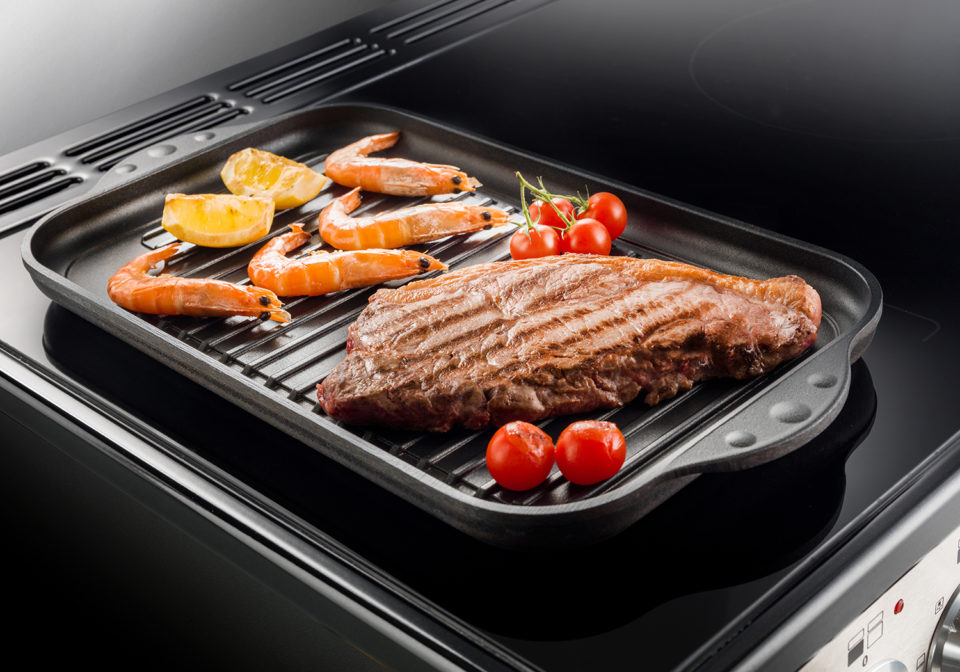 Intuitive Digital Touch Control Fascia
The brand new digital touch control fascia allows you to precisely control the steam cavity and multifunction oven to within a single degree for ultimate control and precision. The steam cavity ranges from 40°C which is great for defrosting to full steam at 100°C or alternatively for sous vide cooking around 57-64°C. The multifunction oven ranges from 40-260°C with the option to select every degree in between enabling food to be cooked accurately.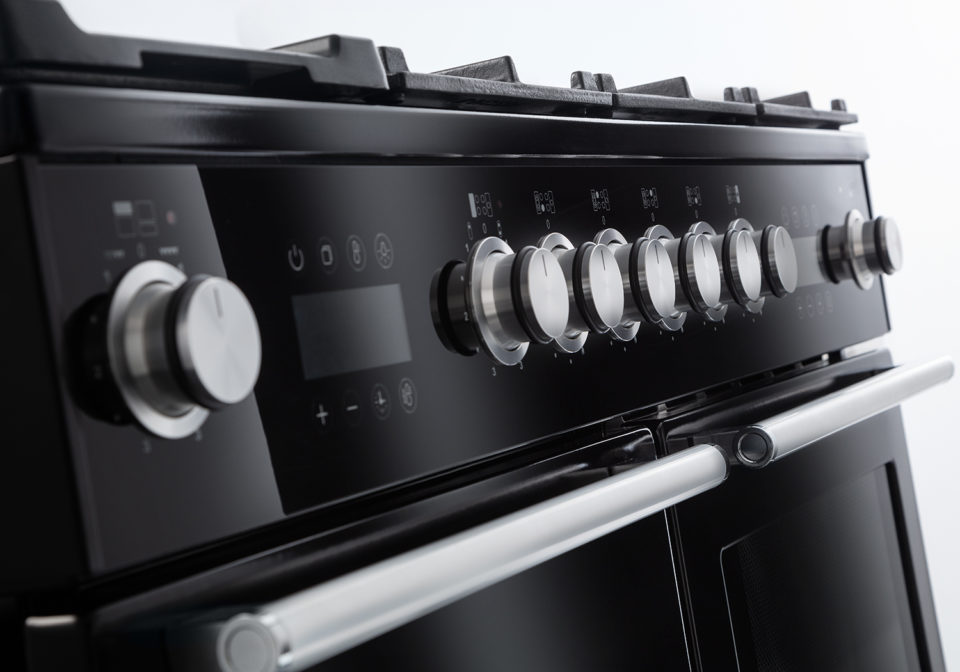 11 Multi Function Oven
The large capacity multi function oven offers 11 cooking functions to ensure your food is cooked to perfection. The 11 functions include a rapid heat up for when you are short on time, and 3 new range cooking functions: Duo, Delicate and Eco mode.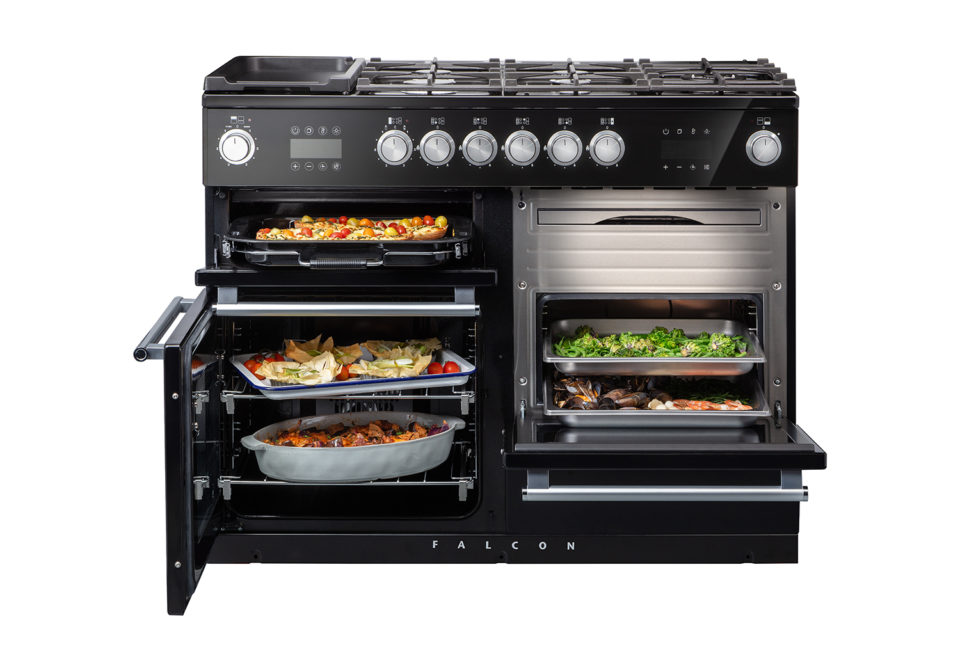 Dedicated Bread Proving Drawer
Operated via a rotary control dial on the fascia panel, the drawer is the perfect environment for proving dough reaching a temperature of 40°C. Alternatively the drawer could be used to melt butter, rest meat, take the chill off plates ready for serving or simply used for storage provided no plastic items are placed in the drawer.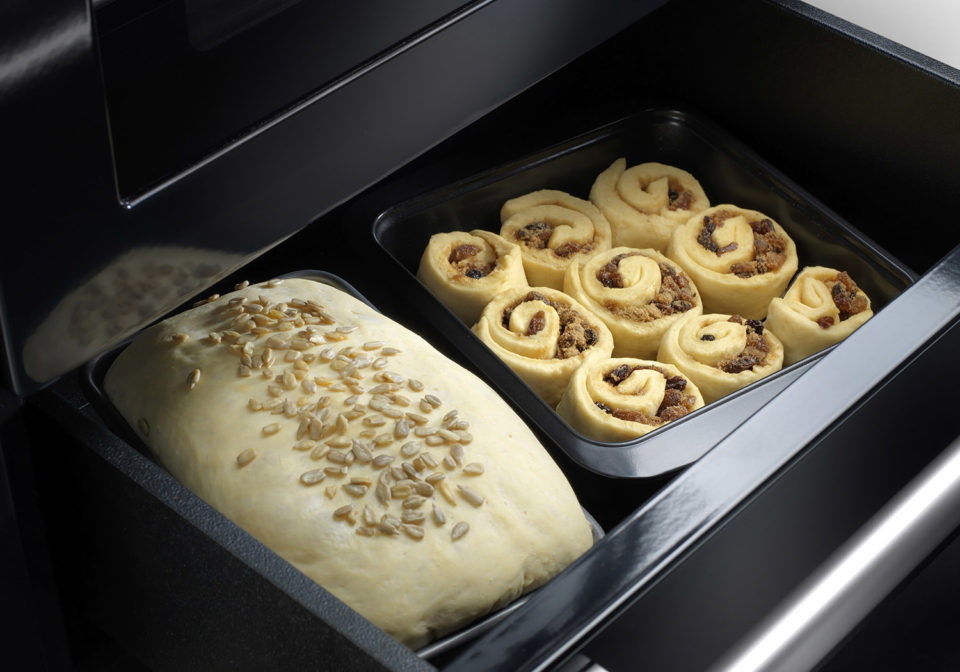 Deluxe Glide-Out Grill
Offering half or full width grilling for energy saving and three heat settings; low, medium and high, the deluxe glide-out grill features a 4-way trivet which enables food to be grilled closer or further away from the elements for flexible cooking. The touch safe handle combined with the telescopic runners makes checking on food effortless and you can easily clean the trivet and grilling tray by popping them in the dishwasher.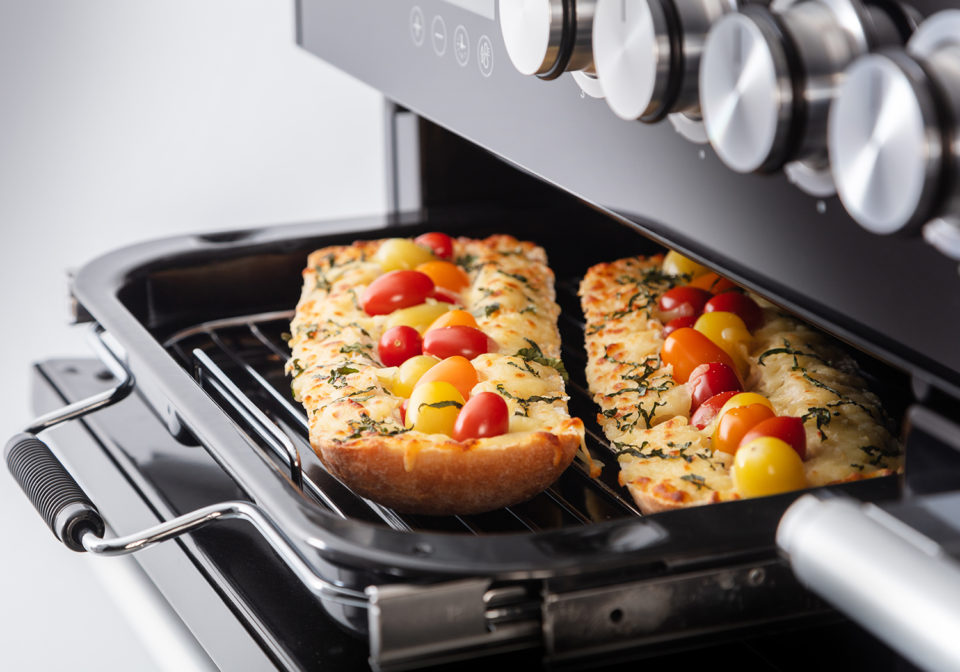 Learn More
Perfect for classic and contemporary kitchen designs, the new Nexus Steam is available as a 110cm dual fuel or induction, in black, slate, stainless steel and ivory with a unique sleek black glass fascia panel and premium rotary controls.